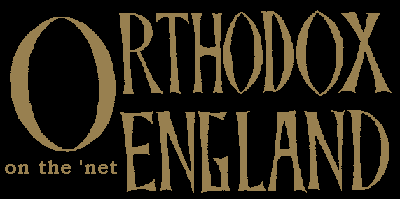 Excerpt from: Volume 4 Issue 3 Date 1st March 2001


From the Fathers: Lessons from Ireland
'Carry my blessing across the sea - carry it to the West' - St Columba
The Irish Philokalia does not yet exist. Below we print a page of what might one day exist.
In our times, grown cold because people think they are too clever, there is much to learn from the Saints of Ireland, not least that true piety is warm and heartfelt. The ice-cold, mummified false 'spirituality' of the proud pharisee was not theirs. Those who are spiritual do not harden their hearts against the interests of the common man and his instincts and feelings. Hardness and callousness or any other frowning and bigoted puritanism, the pietistic cold of intolerance, will never bring us to the Kingdom of Heaven. Holiness is not artificially kept through refrigeration, holiness is warm-hearted and living. This, surely, is why the Irish are so famous for their hospitality, inculcated into them by their great national saints:
'If there be a guest in your house
And you conceal aught from him,
'Tis not the guest who will be without,
But Jesus, the Son of Mary'

'O King of Stars!
Whether my home be dark or bright,
Never shall it be closed to any,
Lest Christ close His home to me'

As the Rule of St Columba reads:
'Forgiveness from the heart for all.
Follow almsgiving before all things.
Take not food till thou art hungry.
Sleep not till thou hast to.
Speak not except on business.
Thy measure of prayer shall be until thy tears come.
Thy measure of labour shall be until thy sweat come.
Three labours in the day - prayer, work, reading.

This charity and hospitality was extended above all to the poor. Thus St Colgan, Abbot of Clonmacnoise, asked God in a prayer to light up the soul with charity, mercy and the spirit of forgiveness. St Columba's monastery in Derry fed one hundred poor every day, a pharmacy was attached to each monastery from which medicine and advice were dispensed free. As a result, all over Europe wherever they travelled, Irish saints were, and perhaps still are, called on in need.
And travel they did. Apart from St Brendan the Navigator, who may have discovered the Celtic-named Brazil ('the great island'), there were many others who sailed. And not just to the islands, Iona, Man, Jersey, or to the mainland, to Cornwall, Scotland and Wales. There were those who sailed to Orkney, Shetland, the Faeroes and Iceland. Here they were discovered in their hermitages by the Vikings when they landed in the ninth century. Here the first church was dedicated to the Holy Spirit. And when Vikings settled in Greenland about the year 1000, Esquimos told them that to the south beyond what is now called the Bay of Chesapeake, 'white men might be seen, clothed in long white robes, marching and singing, bearing banners in their hands'. Another monk, St Cormac the Abbot, wishing to discover the land of 'perpetual solitude', sailed to the south for fourteen days until he was hemmed in by ice. Other Irish monks, among them a certain Fidelis, recorded by Dicuil, sailed down the Egyptian Nile and saw 'the barns of Joseph' (the Pyramids) and then crossed the Red Sea, hoping to find parts of the Pharaoh's chariots. Behind them the monks left their books, crosses and bells and sang their songs, like 'Rejoice, Star of the Sea', addressed to the Mother of God.
Of course the Irish settled in England from Lindisfarne to Glastonbury, from Malmesbury to Norfolk, and on the Continent from St Gall in Switzerland to St Columban at Bregenz in the Austrian Tyrol, from St Omer in northern France to St Colman outside Vienna, from St Brieuc in Brittany to St Cathal in Jerusalem and Taranto, from St Turninus in the Low Countries to St Disen near Mainz, from Norway with St Sunniva to Schaffhausen on the Rhine with St Fintan, from Arras with St Kilian to Pavia in Italy, where thirty-four parishes are dedicated to St Columban alone, and finally to the north of Russia where, it is said, Irish monks founded the great monastery of Valaam.
Perhaps, however, it is the love of animals which endears us most to the Irish saints. Thus St Columban with bird and beast alike, St Kevin with a menagerie of deer, badgers, foxes, doves, cows and wolves, St Columba with cranes and horses, St Modomnoc with bees, St Erc with geese, St Colman with ducks and so many others. None of this, of course, in any modern, sentimental sense, but in the profoundly theological sense of St Athanasius the Great describing St Anthony the Great, of St Gregory Nazianzen describing St Macrina, the grandmother of St Basil the Great, or of the English Venerable Bede explaining nearly thirteen hundred years ago: 'The more faithfully man obeys the Creator, the more man regains dominion over Creation'.
Even the non-theological will know of cases of abandoned children being brought up by wild animals, and all know of the lack of antagonism between small children and animals and the instinctive attraction between them. The average child learns with horror of the ill-treatment of animals. Here modern man with his 'conquest' of nature and genetic tampering has much to learn: the Promised Land of biogenetics may indeed turn out to be a sterile wilderness. 'He turneth a fruitful land into barrenness for the wickedness of them that dwell therein' (Psalm 106,34, Septuagint). The ocean of discovery lies before us, but let us first of all - like the Irish Saints - set course by the Star of Bethlehem which has the light of understanding and the warmth of love.

A Page from the Irish Philokalia
One day St Columban asked St Dicuil: 'What makes you always smiling'. The answer was: 'Because no man can take God from me'.
When in 825 the Danes descended on Iona, Abbot Blathmac said: 'Those of you who can face death stay here with me; let the others save themselves while they can'.
St Luan said: 'I shall never offend God if I have the knowledge of God; for they who disobey Him are they who do not know Him'.
St Kevin lived as Adam did in Paradise: 'The birds used to come and alight on his hands and shoulders, and sing for him their sweetest songs, while the savage beasts fawned at his feet. The trees were like harps, whose melody lightened the toilsome routine of his life. When it was suggested that a large monastery be built there, he replied: 'I have no desire that any creature of God be moved or troubled because of me'.
It is said that so complete was the friendly sway that St Kenneth exercised over the animals that he used the antlers of a stag as a book-rest when he recited the Psalter.
On another occasion it is said that a blackbird laid an egg in St Kevin's outstretched palm when he was at prayer. So long was that prayer that his hand was held in that position until the egg was hatched. Indeed, it is said that he remained in this position for seven years.
It is said that squirrels came and played hide-and-seek in the folds of St Columban's cloak as he rested.
It is said that having taken a liking to a cave occupied by a bear, St Columban politely ordered it away and the bear meekly obeyed. On another occasion he yoked a bear to a plough to work for him.
It is said that St Gall had once found a place of solitude in the forest and proceeded to pass his first night of prayer there. Towards morning a bear descended from the mountain. The Saint threw him some bread, saying to him: 'In Christ's name withdraw from this valley. As for the mountains, we shall share them in common, but on condition that you do no further harm to man or beast'. So well was the agreement kept that the bear used to fetch and carry all the wood needed for the winter fire.
St Angus was well-known for holding converse with the angels, and for this reason he was called 'the wisest Irishman of his time'. However for all that he was sometimes taught a lesson by some humdrum village priest or other. Once when the Saint had turned aside to seek a night's rest in a village cemetery, he saw a vision in which a host of angels had gathered around the grave of a soldier buried in the churchyard. When he awoke, he asked the priest about the soldier: 'I suppose he was a bit of a saint, a great faster and ascetic', he said. 'No', came the answer, 'he was never one for that - he had quite enough of severe bodily deprivations, what with him being in the army and all. No, but I can tell you this: every single day of his life, he was in the habit of calling on all the saints he could think of'.
It is said that St Finnian always slept on a stone pillow, that which the Patriarch Jacob slept on when he had his vision of the ladder.
Once a certain monk was being persuaded to take just a little sleep. He replied: 'Persuade the angels to go to sleep'.
Once when St Ailbhe proposed to journey to Iceland to find solitude and spiritual health, the king had all the ports blockaded.
Of St Brigid, St Ultan wrote: 'In our island of Hibernia, Christ was made known to man by the miracles he performed through St Brigid'.
On one occasion three monks decided to devote themselves to the life of solitude. After one year of silence, the first whispered to the second: 'This is a good life we lead'. After another year, the second whispered his reply: 'That is so'. After another twelve months had passed, the silence was broken by the third hermit, who whispered: 'If I cannot find peace here with all this conversation, I shall return to the world'.